"Backpacks and school supplies can have such an impact on students because it helps them feel equal to their peers. I can say from experience that's really important, especially for recent immigrant 'newcomer' students." - Agency Contact, The Oakland Public Education Fund
Bridging the gap
Family Giving Tree serves as a bridge to joy and learning and can reach specific communities in our neighborhoods with the help of our incredible Agency Partners. We partner with over 250 social service agencies and others that are 501(c)3 organizations each Drive to make sure we can serve as many communities that might feel neglected here in the Bay Area.
How do we reach so many?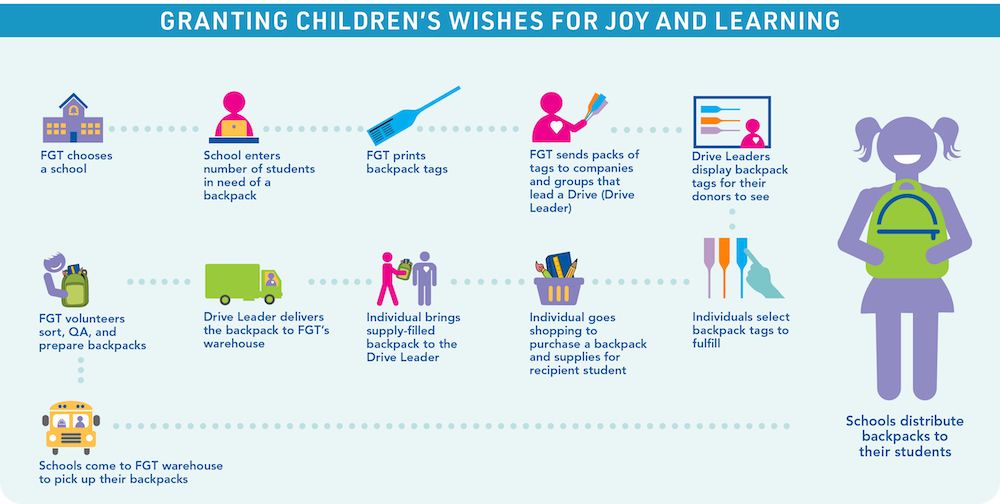 Uplifting those around us
Qualifying schools serve a student population where over 80% of all enrolled students qualify for free or reduced-price meals through the National School Lunch Program (NSLP). It is the responsibility of recipient schools to identify and distribute to those students most in need.
Recipients of the upcoming 2023 Back-to-School Drive are listed by county below. *This list is updated frequently so please visit this page again. (List as of 6/9/2023)
Alameda County
Achieve Academy
Alternatives in Action
Brookfield Elementary
CALICO Center
California School for the Deaf - Fremont
Cox Academy Education for Change
Encompass Academy Elementary
Firststep Outreach
Franklin Elementary - Oakland
Fremont Unified School District - Migrant Education
James Madison Elementary - San Leandro
Madison Park Academy TK-5
New Haven Unified School District - Migrant Program
Newark Unified School District - Migrant Education
Oakland High School
Oakland Unified School District - Migrant Education
Oakland Unity Middle School
Palma Ceia Elementary
Ruus Elementary
San Leandro Unified School District
Tennyson High
United for Success Academy
Contra Costa County
Antioch High School
Antioch Middle School
Antioch Unified School District
Bayview Elementary School
Carquinez Middle School
Dallas Ranch Middle
Dover Elementary School
Downer Elementary School
Helms Middle School
Lake Elementary School
Marsh Elementary School
Richmond High School
Riverside Elementary School
Rodeo Hills Elementary School
Ygnacio Valley High School
Los Angeles County
Olive Crest
Merced County
Los Banos Unified School District
Monterey County
Boronda Meadows Elementary school
El Gabilan Elementary School
Greenfield Lion's Club
Henry F. Kammann Elementary School
Loma Vista Elementary
Los Padres Elementary
Monterey Park Elementary School
Natividad Elementary
Roosevelt Elementary School
Mountain View
Jose Antonio Vargas Elementary
Sacramento County
Boys & Girls Clubs of Greater Sacramento
Greer Elementary
The Well - STC
San Benito County
Aromas San Juan Unified - Migrant Education
Hollister Unified School Districts - Migrant Education
San Benito High School District - Migrant Education
San Francisco County
Arriba Juntos
Bay Area Deputy Sheriffs' Charitable Foundation (BADSCF)
Chinese Education Center
Family House Inc.
Francisco Middle School
James Denman Middle School
Martin Luther King Jr. Middle School
San Francisco Adult Probation
San Francisco City Impact
St. Anthony Foundation
Visitacion Valley Elementary School
San Mateo County
A Brighter Day Youth Work Program
Belle Haven Elementary
Cabrillo Unified School District - Migrant Education
Connect Community Charter School
Costano Elementary
East Palo Alto Academy High School
East Palo Alto Police Department
Garfield Elementary School - Menlo Park
Hoover Community - Redwood City
KIPP Esperanza High School
Los Robles-Ronald McNair Academy
Martin Elementary School
Ravenswood Middle School
Sequoia Unified School District - Migrant Education
Taft Elementary
Santa Clara County
ACE Charter High
ACE Empower Academy
ACE Esperanza Middle School
ACE Inspire Academy
Adelante Dual Language Academy
Adelante Dual Language Academy II
Alexander Rose Elementary School
Alpha Blanca Alvarado
Alpha Cindy Avitia High
Alpha Jose Hernandez
Alta Vista High
Alum Rock School District - Migrant Education
Andrew Hill High School
Apollo High School
Aptitud Community Academy at Goss
Bachrodt Charter Academy
Bishop Elementary
Blackford Elementary School
Boys & Girls Club of SV - Ace Empower
Boys & Girls Club of SV - Ace Esperanza
Boys & Girls Club of SV - Alpha Kinder
Boys & Girls Club of SV - Alum Rock
Boys & Girls Club of SV - Alviso
Boys & Girls Club of SV - Christopher Clubhouse
Boys & Girls Club of SV - DCP Alum Rock
Boys & Girls Club of SV - DCP El Camino
Boys & Girls Club of SV - El Toro
Boys & Girls Club of SV - Hayes School
Boys & Girls Club of SV - Levin (Southside Unit)
Boys & Girls Club of SV - Park Place
Boys & Girls Club of SV - Smythe (Eastside Unit)
Boys & Girls Club of SV - Stipe
Boys & Girls Club of SV - Voices Morgan Hill
Bridges Academy
Brooktree Elementary
Calero High School
Canoas Elementary
Captain Jason M. Dahl Elementary
City Team Ministries - San Jose
College Connection Academy
Columbia Middle School
Crittenden Middle School
De Anza College OTI
Dolores Huerta Middle school
Donald J Meyer Elementary School
Dorsa Elementary School
Downtown College Prep - Alum Rock
Downtown College Prep - San Jose
Downtown College Prep Middle - Alum Rock
Downtown College Prep Middle - El Camino
East Side Union High School District
East Side Union High School District - Migrant Education
Edith Landels Elementary School
Eliot Elementary
Empire Gardens Elementary
Ernesto Galarza Elementary
Escuela Popular Bilingual Family Learning Center
Evergreen Unified School District - Migrant Education
Franklin - McKinley Unified School District - Migrant education
Franklin Elementary - San Jose
Gardner Elementary
Gilroy Unified School District - Migrant Program
Grant Elementary - San Jose
Hello Angels Foundation
Hellyer Elementary
Hoover Middle School - San Jose
Horace Cureton Elementary School
Horace Mann Elementary - San Jose
Hubbard Media Arts Academy
Independence High School
James Lick High School
John Muir Middle School - San Jose
Joseph George Middle
Latino College Preparatory Academy
Learning Options at Liberty
Lincoln High School
Linda Vista Elementary School
Los Arboles Literacy and Technology Academy
LUCHA Elementary School
Luther Burbank Elementary School
Lyndale Elementary
Mariano Castro Elementary
Migrant Education Program
Milpitas High School
Milpitas Unified School District
Morgan Hill Unified School District - Migrant Program
Mt Pleasant Elementary School District -Migrant Education
Mt. Pleasant Elementary School
Mt. Pleasant High School
Muwekma Ohlone Middle School
O.B. Whaley Elementary School
Oak Grove School District - Migrant Education
Ocala Middle School
Olinder Elementary School
Orchard Elementary
Painter Elementary School
Pegasus High School
Pine Hill School (Newton Program)
Renaissance Academy at Fischer
Renaissance Academy at Mathson
Robert Randall Elementary School
Robert Sanders Elementary
Russo McEntee Academy
Ryan STEAM Academy
San Antonio Elementary School
San Jose Conservation Corps
San Jose Unified School District - Migrant Education
San Lorenzo Unified School District - Migrant Education
San Miguel Elementary
Santee Elementary School
Scott Lane Elementary
Sheppard Middle School
Sherwood Elementary
Shine Together
Shirakawa Elementary
Sunrise Middle School
Sylvandale Middle School
Sylvia Cassell Elementary
Trace Elementary
W.C. Overfelt High School
Washington Elementary School
Washoe Tribe of Nevada and California
Weller Elementary School
Yerba Buena High School
Youth Utilizing Power and Praise (YUPP)
Zanker Elementary School
Santa Cruz County
Pajaro Valley - Migrant Education Program
Santa Cruz Unified School District - Migrant Education
Valley Churches United Missions