In celebration of women everywhere during International Women's Day, we're focusing on empowering girls through STEM education.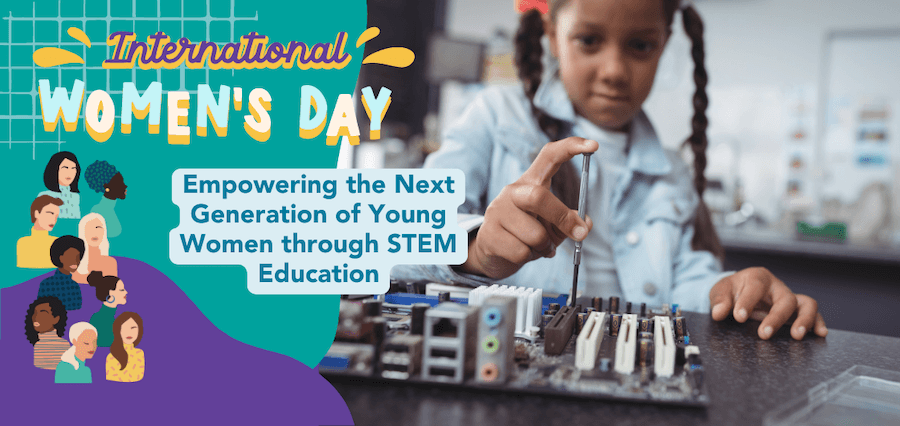 The theme for International Women's Day 2023 is DigitALL: Innovation and technology for gender equality.
This year's theme is an invitation for us to get curious about how to encourage more girls and women to pursue STEM vocations, particularly in the innovation and technology sector. The benefits of prioritizing this initiative are far-reaching!
Per the United Nations' website:
Bringing women and other marginalized groups into technology results in more creative solutions and has greater potential for innovations that meet women's needs and promote gender equality.


A gender-responsive approach to innovation, technology and digital education can increase the awareness of women and girls regarding their rights and civic engagement.


There is a close correlation between gender equality and stability, resilience, poverty reduction, growth, and social cohesion. When women and girls in all their diversity live up to their full potential, they are the key to unlock our common challenges.
We asked Harini Senthilvasan, CEO and Founder of local nonprofit Marshmallow Minds to share some insight on ways we can encourage more young women to develop an enthusiasm for STEM exploration. Founded in 2016, Marshmallow Minds' mission is to make future-ready, highly engaging, and experiential education easily accessible and very affordable for Title-1 schools that serve children from under-resourced communities.
Through their STEAM Explore and Design Thinking program Marshmallow Minds provides highly engaging and experiential education to students in Grades K-8 with 3-18 hours of instruction covering topics from physics, science, robotics, and ecology. Family Giving Tree has been delighted to partner with this organization to provide fun, hands-on learning kits to support their programs in local schools! (Watch the video to see students in action!)
Today, women only comprise 28% of the STEM workforce, with women of color only making up 11%. What are some ways to close the opportunity gap in fields of STEM for girls?
There are several things that can/should be done to improve the representation of women in STEM in the Bay Area such as encouraging girls to pursue STEM, providing mentorship and women role models, addressing unconscious bias, offering flexible work arrangements to balance work and family responsibilities, and increasing access to professional development and training in STEM fields so there are fewer barriers to entry.
My personal favorite among those is actively engaging girls from a young age in STEM activities because when young, children are naturally curious, collaborative, and creative. Introducing STEM programs in schools starting as early as kindergarten will help spark an interest in STEM fields and STEM subjects will become less daunting as they grow. When they reach high school, they are able to learn advanced STEM concepts more easily because they know in the backs of their minds, "Oh, I know how this works."

What can we do here in the Bay Area, where the technology sector is such a large part of our economy to improve those statistics?
To that end, since 2016, through Marshmallow Minds, my focus has been on bringing highly engaging and experiential STEAM programs (STEM with Art and Design) to elementary grades(predominantly Title-1 schools serving under-resourced communities) and encouraging more girls (and boys) to participate and feel the excitement of hands-on problem-solving while learning to work in groups and have fun. Our next big milestone is to scale our programs from serving 2,000 students a year (current) to serving 10,000 by the 2025-2026 school year with a laser focus on Title-1 schools. Being in the Bay Area presents us with a unique opportunity to collaborate with diverse groups of people with a variety of expertise and experiences that can lead to innovation and discovering the right tools and technology that will help us in successfully scaling our program. As we scale and introduce more children to STEAM, we hope that our collective education and community outreach efforts will help improve those statistics in the years to come.
Why would you say this is so important?
If you educate a man, you educate an individual. But if you educate a woman, you educate a nation - African proverb.
Study finds women are better empathizers than men. By combining our empathy, rationality, and creativity, STEM girls/women will transform into confident problem solvers and will contribute to the fullest of their ability to build strong communities.
Thank you, Harini for sharing your thoughts, and for the important work Marshmallow Minds is doing to uplift and level the playing field for students here in the Bay Area!
Harini Senthilvasan is a Stanford and Henry Ford Learning Institute(HFLI) certified Design Thinking educator. She is also a Stanford Certified Project Manager and holds a Master's Degree in Engineering from Texas A&M University. She has worked in the wireless technology sector for 15 years with different companies such as Broadcom, Ubicom (Parent: Qualcomm Atheros) and Texas Instruments and has had the privilege to be part of dream teams that designed wireless technology solutions for Apple, Amazon, Nokia, Microsoft, Logitech and more.
Since 2015, her priority shifted to early education and she founded Marshmallow Minds where she is leading the curriculum development and education and community outreach programs.